Happy New Year! Do your New Year's Resolutions include:
saving money
getting published
getting free stuff?

If so, we can help! Let's ring in the new year with some sneak peeks at what Outskirts Press has in store for you in 2012:



Win a free Barnes & Noble NOOK!

In December we held a drawing for a free Amazon Kindle during our 25 Days of Christmas event. Didn't win? No worries! Now we are going to hold a drawing for a free Barnes & Noble NOOK once we reach 5000 "likes" on our Facebook page. So visit us on Facebook and "Like us" today.
Free publication in our exclusive Facebook Fandemonium Volume II

Our 2nd annual Facebook Fandemonium anthology is coming. In January we will solicit submissions from our Facebook friends. This is your chance to be published for free in our next collection of fiction and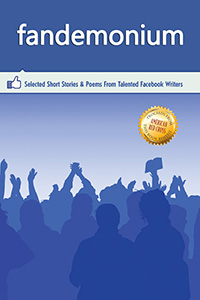 poetry, and help a good cause at the same time (royalties benefit the American Red Cross).

In the meantime, check out Fandemonium Volume I by clicking here.
Receive over $300 of free Amazon marketing options this January

Historically, publishing a book is the #2 New Year's Resolution among all people (losing weight is #1). You're on your own with #1, but we've helped thousands upon thousands of writers fulfill that #2 New Year's Resolution. Are you ready to fulfill yours? We can help you, too.

If you start publishing right now, you can get a head start on marketing with over $300 of Amazon book marketing options. Click here for all the details.

Free 2012 Book Marketing Calendar for our published authors

When is the deadline for participating in the Book Expo of America? When is the deadline for submitting your book to the Writer's Digest International Self-Published Book Awards? What should you do to promote your book during Small Press Month? (When IS Small Press Month)? These questions, and others, are answered in the 2012 Book Marketing Calendar, available exclusively for authors published with Outskirts Press. And you can get it free in January! Stay tuned for details.
Yes, you read that right. We'll be announcing the exciting details of our Share the Love promotion in February.