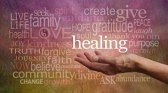 We live in a Healing World, yet we as a society choose to abuse mother earth and all its inhabitants. 
The history of mankind has been riddled with false beliefs and war over religion, greed, arrogance, and superiority.
We are the most dangerous animal on the planet and the most intelligent. Why is it so hard to see each other as equals and treat everyone we encounter with respect?
Depending on where you live the…
Continue